This was our first Thanksgiving as a married couple so I wanted to go all out and show Steve my domestic skills. It was just him and I for dinner, but I didn't want to skimp. I wanted to make a feast with all of our favorites.
Instead of an entire turkey, I made a turkey breast. I bought one of those freezer-to-oven bagged breasts which turned out delicious, tender, and juicy. The bagged turkeys have NEVER let me down. The turkey came with a gravy packet too which was equally delectable.
We looove mashed potatoes but I came across a recipe for turnip mashed potatoes. I don't think I've ever eaten a turnip and Steve wasn't too sure he had either. But the description said it tastes like a really mild radish. We love radishes so I decided to make two batches of mash - one regular and one turnip style. The turnip potatoes were AMAZING. The difference between the two were subtle, but the turnip mash had a slight bite to it and if you didn't know there was turnip in there, you'd be licking your lips trying to figure out why your mashed potatoes tasted kind of spicy.
I made my own stuffing, using a simple recipe that my mom gave me. But, instead of white bread I used whole wheat bread just because it was what I already had on hand. I sauteed a yellow onion and three stalks of celery in a cube of butter and poured it over stale bread cubes. I added 2 tablespoons of poultry seasoning and a can of chicken broth. Since I didn't have a whole turkey to stuff, I baked the stuffing in the oven for about 40 minutes. YUM. Sometimes I add apples to the stuffing but we had some home-made applesauce frozen from a stash Steve's mom gave us earlier this year and I figured that would satisfy our appletite (ha!).
Instead of a traditional Thanksgiving veggie dish like green bean casserole or carrots or broccoli, or cauliflower, or ANY OTHER VEGETABLE, I had to come up with something creative so that Steve would get his vitamins. So, I made a tomato, red bell pepper, and radish salad. I cut the veggies up in big pieces and tossed them in a home-made vinagrette (olive oil, balsamic vinegar, red wine vinegar, lemon juice, walnuts, thyme, salt, pepper, and a weird herb Steve planted for me outside) and added some crumbled feta cheese on top. This was a hit. Steve couldn't get enough!
I usually make the Pilsbury croissant rolls for Thanksgiving, but this year since I was on a domestic binge, I decided to make some semi-homemade biscuits. I used my go-to Bisquick recipe that I posted about before.
Last, but certainly not least. The pumpkin pie. I really wanted to try out a recipe for Pumpkin Chocolate Tirimisu. Steve wasn't really into the idea, and requested pumpkin pie instead. So, I attempted my very first pumpkin pie of all time and found a Paula Dean recipe for pumpkin pie using cream cheese. It came out so good that pretty much all I could think about all day today was getting my paws on another piece of that pie!!!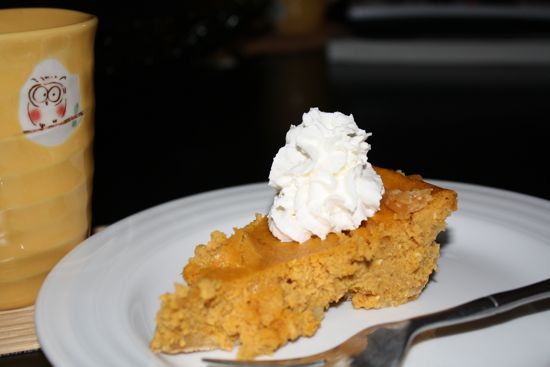 Now, we have so many leftovers we'll have lunch and dinner for the rest of the weekend and I am planning on making a turkey and mushroom soup next week.
I hope you all had a wonderful Thanksgiving and gorged yourselves like we did. Cheers to good food, family, and friends!