My cousin recently graduated from UCLA so I hopped in the car and drove down to celebrate his success and enjoy some R&R. We stayed at the Beverly Hilton, a first for me. This place is so stylish and SO L.A. I love my family. There's always lots of good food, yummy drinks ($20 poolside margaritas, yikes!), and lots of laughter.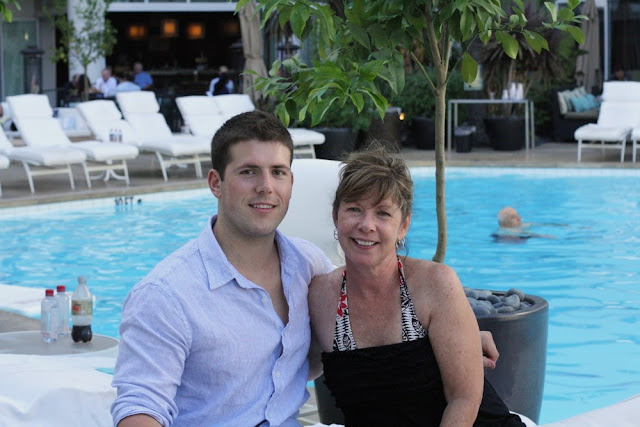 Brian came out to the pool wearing this "ain't my problem!" t-shirt. I couldn't believe my eyes because the home-made t-shirt belonged to Steve who wasn't there! Brian said he found the shirt at their house awhile back and thought it was pretty funny. He knew it had to belong to Steve. He was so excited to surprise me by wearing it. This story made Steve's day and he wanted Brian to keep the shirt :)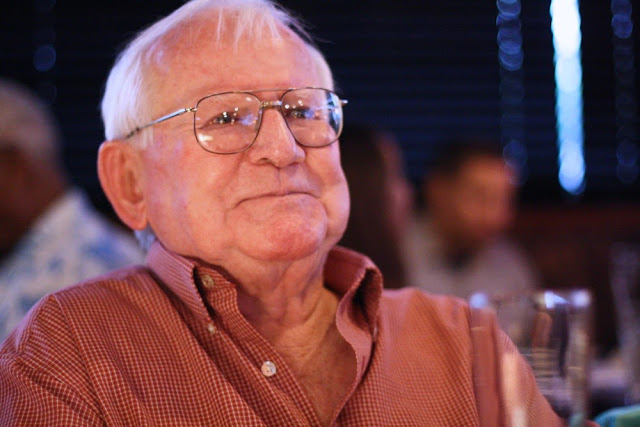 My Grandpa spent his teenage years in LA, so we spent an afternoon driving around to all of his old houses and apartments and the places he used to hang out.
This was the apartment complex where my mom was visiting her grandparents when she was about 14 years old. She and her girlfriend walked to a nearby Taco Bell and heard music playing in a nearby apartment. So they decided just to go on in and check it out! My grandpa and his parents had no idea where the girls were...they were just hanging out in some random stranger's apartment listening to music with a group of teenagers. Wow how times have changed!
He lived in another
apartment complex themed after Alexander the Great
, originally built to house actors in 1927. The apartment
sits directly across the street from Paramount Studios and near the Hollywood Cemetery. My grandpa said he and his buddies used to hop the cemetery fence and drink beer.
We made a stop at Hollywood High School where I learned more about his life as a youngster. He said he remembers hanging out on the front steps of the school. He told us that he used to hitchhike to and from school and one time he was picked up by actor
Gabby Hays
(Roy Rogers' sidekick). When he didn't hitchhike he'd take '
street cars' to get around LA. These are trolley-like cars that run on tracks through the center of the street.
For extra money, my grandpa signed up to work as an extra in "The Stratton Story", a film where Jimmy Stewart played Monty Stratton, a Major League baseball pitcher. All he had to do was sit in the stands and he was paid $16 a day plus a meal, which was huge back then. He also almost got a job in "
Unconquered
", a western movie from 1947, but he didn't get the part because he didn't know how to ride a horse! And just
two
months before graduating from Hollywood High, he joined the Coast Guard. Many years later, he attended night school to get his GED.
I love hearing stories about my grandpa's life and it was so neat to be with him driving around his old stomping grounds. He remembered every street name and how to get there. He is so cute. :)